Welcome to the homepage of WEI Research , where you will be able to discover the current ongoings of the team and their future endeavours.
Thanks to the successful launch of our Research Strategy and the continued growth of our activities, WEI has been able to take on more opportunities in the research eco-system at a national and EU level. This includes a portfolio of collaborative research projects, details of which you can find below.
Another important aspect of our work is a continued focus on evidenced-based policy analysis and research, which we believe is vital to underpin important policy choices for the sector, on our journey to zero-carbon. Policy-priming research is core to what we do at WEI, and you can find access to our collection of research reports on our website.
Our Research Strategy
The Wind Energy Ireland Research Strategy was introduced in 2022 to underpin our belief that Research and Development will be a core element in achieving climate goals. With this document, we aim to bridge the gap between industry and academia, encouraging real collaboration to drive the transition to a decarbonised energy system.
Our strategic research goals set out a high-level roadmap to deliver on four key focus areas, namely policy development, partnerships, education and engagement, and industry supports. Please click on the link below to learn more.
---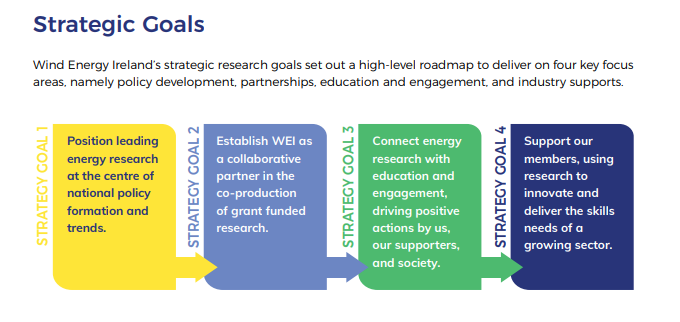 ---