A training programme for new employees in the renewable industry in Ireland
Cohort 2: 22nd September 2023 – June 2024
Two Fridays per month - In person & online learning
€4,000 for WEI members
WEI & GTS are proud to offer our members the Graduate & Career Development Programme, an innovative and practical training programme designed for new employees in the renewables industry in Ireland. This programme is aimed at providing trainees with a comprehensive understanding of the renewables landscape in Ireland while enhancing their personal skills through our five key pillars.

Our programme is unique as it caters to employees working in all sectors of the industry, providing in-depth knowledge of their own area that adds value to their day-to-day activities. We achieve this through a mix of in-person and online learning, bringing trainees together two Fridays per month to learn from industry experts on a range of topics such as Planning, Grid, Markets, Onshore & Offshore, Hydrogen, and Storage.
In addition to expert industry insight, we also focus on soft skills development, which is vital for creating a more rounded employee and better leader of tomorrow. Our training on relevant soft skills optimises communication, interactions, and self-awareness, giving trainees the opportunity to step back from their work and analyse how they work, focusing on external and internal factors.
As a crucial component of the programme, the group work allows for collaboration between trainees from different companies, working together on a research project related to our industry. Through this they will have the chance to put their soft skills into practice and develop their teamwork. The goal of this project is to prepare for the WEI Annual Conference, where trainees will have the opportunity to showcase their findings in the Research Poster room through a visually engaging format. Additionally, they will also be given the responsibility of presenting their work to the conference audience in the main hall, offering invaluable exposure and experience. This unique opportunity will allow them to test their abilities in front of key stakeholders in our industry.
As part of our commitment to delivering impactful learning experiences, we will be taking the group on a series of engaging site visits throughout Ireland. These visits include green sites, such as wind farms, research centres, and testing facilities, providing an excellent opportunity for hands-on learning. In addition, we will work with our member companies to host several learning days, offering valuable insights into the inner workings of different organizations in our industry. Through these site visits, students will gain invaluable experience and a real-world perspective on the scale and diversity of our industry.
Networking is an essential aspect of the Graduate & Career Development Programme, and we pride ourselves on providing unprecedented networking opportunities for trainees. They not only network with their peers but also gain access to industry experts from across the different sectors. Trainees' involvement and attendance at leading industry conferences and networking events complete the programme, giving them a holistic development opportunity.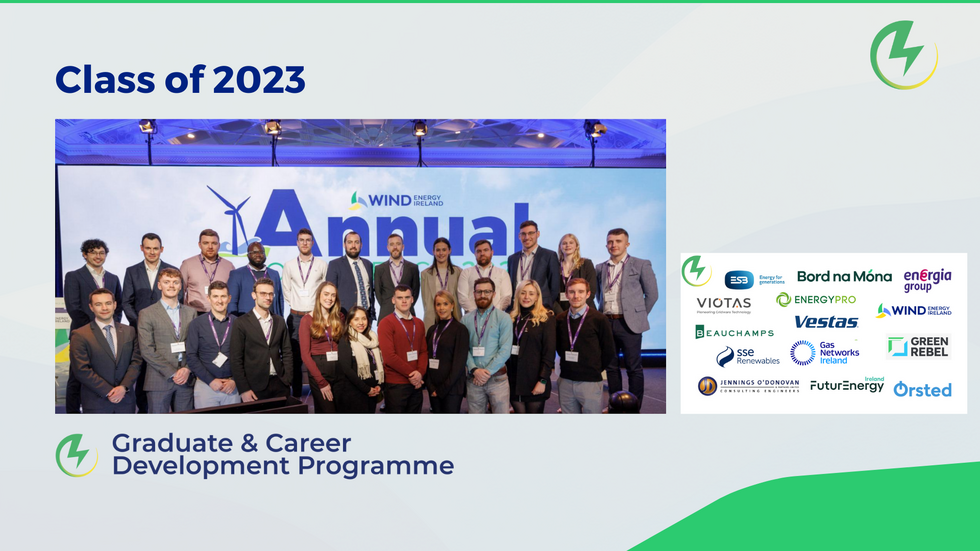 Join the Graduate & Career Development Programme
Join the Graduate & Career Development Programme today and gain a better understanding of the renewables industry in Ireland, enhance your personal skills, and network with industry experts. This programme is an excellent opportunity for new employees in the renewables industry and their managers to invest in their professional development and contribute to the growth of the industry.
Please reach out to programme coordinator Dáire Horgan This email address is being protected from spambots. You need JavaScript enabled to view it. or fill in the form below to find out more!
Cohort 2 will be starting in September 2023 and will run until June 2024 with trainee's being brought together two Fridays per month. It is a mix of in-person and online learning depending on the session.
Please note that trainees will be responsible for their own travel arrangements and associated expenses, including accommodation, though we are happy to provide guidance and support wherever possible. Catering is provided on full in-person days.
Upon completion of the programme, trainees will receive a Certificate of Completion, as well as several certified online learning certificates, that will serve as a valuable recognition of your dedication and hard work. Don't miss out on this fantastic opportunity to grow your skills and advance your career!