Electrifying Ireland: Transforming tomorrow by electrifying today
Ireland still relies heavily on imported fossil fuels but we have immense potential for electrification. Whether this is across domestic heat, industrial sectors, or transport, the expansion of electrification means lower emissions and greater energy security.

As we generate more and more renewable electricity, we must think towards the future: we must electrify everything we can to maximise the benefit of clean Irish energy.
Heating and Cooling
Across the EU, on average, almost 23 percent of heating and cooling is powered by renewable energy. But in Ireland that figure was a meagre 5.2 percent in 2021 — and it's getting worse.
Fossil fuels dominate heat supply in Ireland. And heat makes up the largest share of our energy-related CO2 emissions at 37 percent.
Electrifying our heat offers domestic customers, commercial entities, and Irish industry an opportunity to move away from these imported fuels – saving tonnes of carbon emissions every year.
Ireland may be worst in the EU for developing renewable heat but there are immense electrification possibilities for our homes and businesses. To achieve a Net-Zero future and to move away from fossil fuels we need to further develop the Ireland's electrification potential.
Domestic Heat
Electrification technology is readily available now, and its rollout is well advanced in other countries. This is one way to make huge strides towards our emissions targets – electrification of domestic heat must be adopted at scale in Ireland.
The National Retrofit Plan as outlined in the Climate Action Plan (CAP) seeks the installation of 400,000 heat pumps in existing homes by 2030 and CAP plans for 280,000 new homes using heat pumps by 2030.
To achieve the potential in electric heat we need the right policies, such as programmes to train heat pump installers, to encourage greater – and faster – electrification.
Industrial Heat
Economic, environmental, and security of supply gains are to be made directly from electrification of heat across Irish industry. The commercial sector must achieve a 35 percent emission reduction by 2030 under the Climate Action Plan and there are ambitions to go even further. Much of Irish industry can make the move from fossil fuels to electrification technology that is available now. We must create specific policies, like flexible industrial heat grid connections which could allow businesses using heat pumps to benefit for supporting the electricity grid. This will help grow electrification and support Irish industry to electrify as quickly as possible.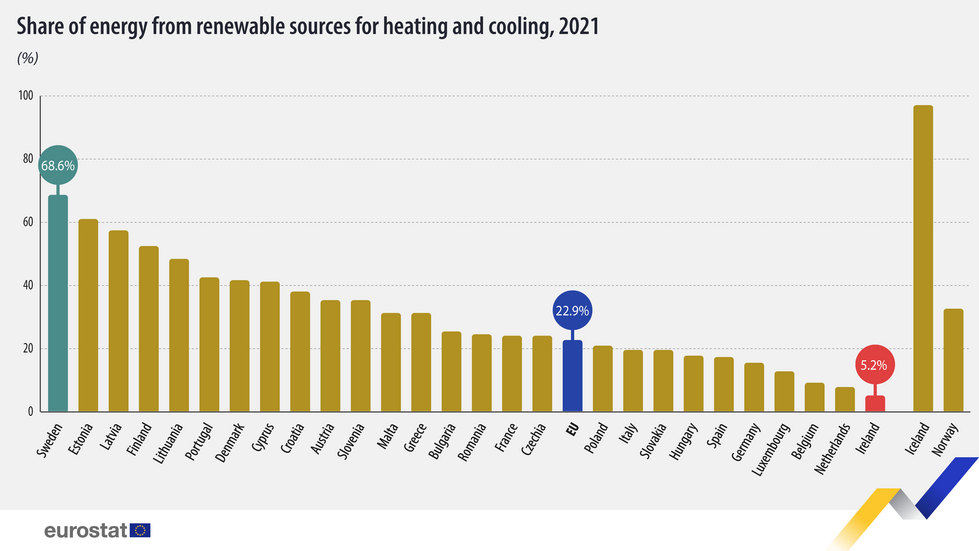 Transport
Transport in Ireland – both private and public – is heavily reliant on imported fossil fuels. The transport sector represents 19 percent of Ireland's carbon emissions with road transport and private car usage carrying the most significant carbon footprint.
Electrification technology offers a route to expand renewable transport in Ireland and move away from imported fossil fuels. However, this requires the rapid rollout of robust policies that acknowledge the flexibility EVs can provide for the grid and allow for vehicle charging at cheaper times and to further develop the infrastructure needed to support this transition.
The Government's Climate Action Plan includes ambitious targets for the electrification of transport – from domestic EV's to commercial vans and bus fleets. Expanding the EV charging infrastructure is essential, and we need to support bus and rail services to electrify more of their fleets.
Electrification and Consumers
Using electricity to heat our homes and travel to work or school offers domestic customers, commercial entities and Irish industry an opportunity to move away from fossil fuels that currently dominate energy supply in those areas, and benefit from Ireland's growing renewable electricity generation.
Ireland currently spends more than €1 million an hour importing fossil fuels. Fossil fuel prices are volatile and are determined by international markets and political events. Our families, communities and businesses will continue to be vulnerable to extreme electricity prices while we rely on imported fossil fuels to generate our electricity.
Converting heat supplies to renewable energy sources reduces our reliance on fossil fuels. The more renewable energy we can connect, the more secure we make Ireland's energy supply and the greater protection we have from international markets.
Electrification and The Electricity Grid
Alongside greater energy security and lower emissions, electrification also has other advantages for the electricity sector more generally.
Imagine a scenario where a business, or even an EV car owner, could help support the safe operation of the electricity grid by increasing or reducing their power consumption when needed.
Vehicle-to-grid technology, for example, enables EV owners to sell surplus energy back to the electricity grid and could soon be used in Ireland. Large energy users can already get paid if they are willing and able to reduce their electricity demand at times when the grid is particularly under pressure.
Electrification offers a new customer base for electricity supply and this can help further with managing curtailment and constraints in the market, it can make use of the existing grid infrastructure and making use of electricity generation that would otherwise go to waste.
Electrifying Ireland Now
Ireland is one of the most fossil fuel-reliant countries in Europe and we need to go beyond just cleaning up the electricity sector to do something about how we use energy across our economy. By expanding our ambitions to heat and transport, and electrifying the industries using the highest volumes of oil and gas, we can help meet our climate targets, reduce emissions, strengthen the renewable electricity sector and ensure real energy security for Ireland.
Wind Energy Ireland have formed an Electrification Working Group that is accelerating the electrification of heat and transport in Ireland. We all must work together to put in place the right policies and the right technologies to electrify our heat and transport sectors. We must invest in the electricity grid, prioritise flexible access to the grid and create a broad policy framework to accelerate the growth of electrification in Ireland.
Policy Asks for Greater Electrification Include:
More flexible grid connections
A review of SEMO charges to ensure businesses providing flexibility can be paid for the service
Investment in EV charging infrastructure
Electricity grid reinforcements and upgrades
And Government policy should recognise the benefits that demand flexibility provides in dealing with constraints and curtailment
Join the Conversation
Right now, Wind Energy Ireland and Green Tech Skillnet are running a series of free webinars to highlight how we can move the converstion forward — electrifying Ireland now.